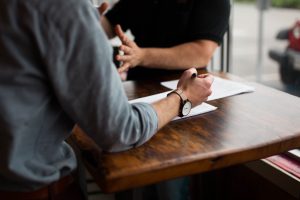 While all individual disability policies have the same purpose—paycheck protection—they have different features that may or may not be a good fit for your clients.
Multiple disability insurance companies are competing for your business, and they offer a wide range of terms and benefits. This is a good thing because it allows you to tailor a disability income plan that fits the professional and financial profile of your client.
Here's some of the important options to consider with individual disability plans:
The #1 feature to consider is the definition of disability because it triggers the claim. These are the most common definitions of disability used in individual disability policies.
Own occupation
Due to sickness or injury you are unable to perform the material and substantial duties of your occupation. Benefits will be paid to claimant even if he/she returns back to work in another occupation.
This is the strongest definition of disability available. It is the definition many physicians and attorneys seek because it protects them in their specialties, yet would allow them to work in the field in another capacity or specialty.
Modified own occupation
Due to sickness or injury you are unable to perform the material and substantial duties of your occupation, and you are not gainfully employed in any other occupation.
This is a quality definition for those not employed in highly specialized fields. It will protect the claimant in his/her occupation, but not if working in another occupation.
Transitional own occupation
Own occupation definition that includes a benefit reduction provision in the event claimant is working in another occupation. Disability benefit will be determined based on the ratio of claimant's monthly earnings prior to claim to the claimant's earnings at a different occupation and claimant's monthly disability payments.
Any reasonable occupation
Due to sickness and injury you are unable to perform the material and substantial duties of your occupation and any reasonable occupation based on your training, experience and education.
The second most important feature to consider is the terms of renewal. Disability insurance policies typically renew each year unless the policyholder cancels the policy or doesn't keep up with payments. However, the renewal terms determine whether or not rates are locked in. With a guaranteed renewable policy, the premium can increase if the increase applies to the entire class of insureds. With a non-cancellable policy, rates cannot be raised.
The third most important feature to consider is the benefit period. How long will the insured receive a disability payments? The length of the benefit period can vary substantially. Some only last a couple of years. Others can continue paying benefits until you reach retirement age.
The fourth feature to consider is the elimination period. This is the waiting period, or how long the insured must wait before receiving benefits.
Additional Features or Riders
There are also additional features or riders that may be added for an addtional premium to base policies, such as partial or residual disability benefit, inflation protection, and automatic increase benefits that are typical with all carriers.
In addition, there are a variety of other benefits or riders that vary amoung carriers.
For example, a compassionate care rider that will pay a benefit to a caregiver taking care of a family member for a period or time, or student loan rider that will continue to make payments in the event of a disabling injury or illness or a hospital confinement benefit.
These are just some of the options available. You may have access to other riders from these and other disability insurance companies. Also, offerings can change. Riders may not be available with every policy, and there may be limitations and exclusions. When comparing disability insurance policies, you need to consider the terms carefully to make sure that the coverage being offered meets your needs.
When you partner with Source Brokerage, Inc. you have access to multiple carriers, making it easy to tailor a policy that fits the individual professional and financial profiles of your clients. Our disability income specialists can walk you through the various options and provide quotes and even help you present the plan to your client.
Ready to get started? Contact Steve Crowe at ext. 222,  or request a quote.