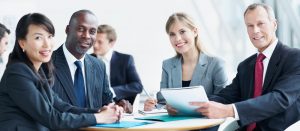 Corporate executives are a prime group to target for disability income protection. Middle and upper management in small to mid-size businesses are a lucrative and underpenetrated market.
Many have no disability income protection at all, and others have protection that is inadequate for professionals earning high salaries.
The advantages are great when you target this group:
In small and mid-size companies, everyone knows each other. So, if you sell DI to one executive in the company, chances are he or she can refer you to others in the company who also need DI.
Working with Source Brokerage, you have access to a variety of carriers and DI products, so you can tailor the plan to meet the unique needs of the executive.
Plan design can be a combination of group LTD already provided by the employer and a layer of individual disability income (IDI) layered on top.
If you are working with multiple executives in the company, you can secure premium discounts for three or more policies in the same organization.
Another option, especially if the executive group is older or has pre-exisiting health conditions, is guaranteed standard issue DI. It's a great way to insure the middle and upper management has adequate income protection. Carriers will provide a guarantee issue disability benefit–no medical underwriting–to a mandatory group of five or more based on the current group LTD plan and the demographics of the group.
If no group LTD is in place, a no frills IDI policy can be designed—choosing a product with a guaranteed renewable base contract and adding a basic residual/partial rider is a cost-effective income protection plan.
You can build a robust DI business and open new doors in the corporate business market with disability income protection plans tailored to meet the unique needs of your clients.
Learn more about selling disability income in the corporate executive marketplace, contact Steve Crowe at ext. 222, Ellen Crowe at ext. 223 or Brian Hettmansberger at ext. 230 Chris Bussey at ext. 220 or request a quote.