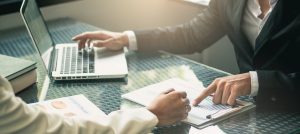 Principal and Standard's E-apps make it easy to complete  disability applications for you and the client.
Quick fill and sign features and built-in checks for required fields help you and your clients complete applications accurately and quickly. It also makes sure your applications are complete and in good order before they are submitted, speeding up the underwriting process.
Advantages of E-App
E-Apps allow you to do an online screen for each normal form and page of a complete application packet.

E-Apps do not allow you to "submit" until all fields on all pages are completed – it assures everything is submitted "In Good Order".

After completing all screens, you then "lock" the data and "submit" the info packet via e-mail to your client for their e-signatures or you can met with them in person to e-sign the application.

E-Apps float to the top of the pile for processing since it is already transmitted to carrier in an electronic format.
How to get started with E-app?
Contract with the carrier through Source Brokerage
Contact Source Brokerage to gain access to Principal and Standard's E-app portals.
Complete the application.
Choice of emailing the application to the client or meeting with client in person to sign the application.
Submit the application and requested documentation
E-apps are faster, more accurate, and simpler. They allow you to focus your time on what you do best—helping your clients protect their assets and achieve their financial goals.
To learn more about submitting E-apps, Contact Steve Crowe at ext. 222, Ellen Crowe at ext. 223 or Brian Hettmansberger at ext. 230 Chris Bussey at ext. 220 or request a quote.