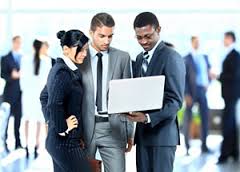 Lead the paycheck protection discussion with a review of the most obvious fallback option–social security disability. It is a great way to open the individual disability income protection discussion with your client.
Call the client or prospect and say, "I'd like to set an appointment to  review your social security disability benefit in the event you become too sick or injured to work for a period of time."
How Does Social Security Disability Work?
Begin your discussion by educating your client about what they can expect with Social Security Disability.
The average monthly benefit is $1300 a month or $15,600 a year.
Social Security Disability has a very strict definition of disability: "inability to engage in any substantial gainful activity by reason of any medically determinable physical or mental impairments which can be expected to result in death or which has lasted or can be expected to last for a continuous period of not less than 12 months."
The approval rate for a Social Security Disability claims is low – only around 35% of initial claims each year are approved.1 Often, people seeking disability relief under Social Security have to hire legal representation to facilitate their claim. That route is usually taken after multiple denials.
Can they continue their current lifestyle on social security disability?
The answer is very likely, "NO." What other options do they have?
They may have group long-term disability (LTD) through work. If so, ask to review their current coverage with them. Most plans pay 60% of salary up to a $3-$5K cap. If the benefit is employer-paid, it will be taxed. Most group LTD plans are also offset by any social security disability benefit being collected.
Can they continue their current lifestyle on 60 percent of their current income?
The answer is very likely, "NO." Or "it will be very tight." What other options do they have?
Introduce individual disability income (IDI). Compare the benefits and definitions SSDI, group LTD and IDI.
Share an IDI illustration and walk the client through the benefits and definitions. Show them how IDI creates a solid financial  foundation for paychecks.
Close the discussion with a plan: "Let's get started on the individual disability application"
Make it Easy: Partner with Source Brokerage, Inc.
Source Brokerage's disability income specialists are your disability income partners. We can answer your questions, provide quotes, conference with you and the client, so you can focus on making sure your clients' financial foundation is protected.
Contact Steve Crowe at ext. 222, Ellen Crowe at ext. 223 or Brian Hettmansberger at ext. 230 Chris Bussey at ext. 220 or request a quote.