Disability income is not the main business focus for many of our clients. They rely on our expertise to guide them through the presentation, application , and underwriting process. Other clients are familiar with the details of disability income but want access to multiple carriers so they can tailor the policy to meet the financial and professional needs of their clients.
Whether you are a seasoned disability income broker or you sell a few disability income policies a year, here's three reasons to partner with Source Brokerage, Inc.: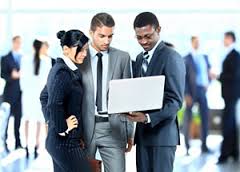 #1 Expert Guidance
Understanding disability insurance can seem overwhelming, but fear not! We are DI experts, you can count on us from the beginning of the DI conversation with your client to presenting multiple DI quotes to placing the policy in force.
You do not need to be a DI expert to protect your clients income.  Our aim is to support you throughout the process, so you can help your clients make informed decisions about disability insurance.
We have knowledge and insights into top insurance providers in the disability insurance industry, the benefits of various definitions of disability, and the differences between employer group long-term disability and individual disability insurance. We also address practical matters like the application and underwriting process, and premium pricing.
You don't need to be the expert when you partner with us. We have a comprehensive understanding of the key aspects of disability insurance, so you can focus on your own area of expertise—– safeguarding your clients' financial well-being.
#2 Access to Multiple Carriers
When it comes to disability insurance, finding the right company is crucial, especially for professionals like doctors, lawyers, business owners, and professionals in hospitals and law firms. While there are many companies in the market, only a select few provide comprehensive coverage tailored to meet the unique needs of these individuals. At Source Brokerage, we understand that each professional has specific requirements, which is why we work closely with you to identify the best disability insurance options available for your client.
In the world of disability insurance, the "Big 6" companies are recognized for their exceptional coverage and commitment to serving professionals. These companies offer a range of options and definitions that cater to the diverse needs of doctors, lawyers, and other professionals. However, it's important to note that each company may have different strengths and features that suit one individual better than another.
When you request a disability insurance quote from Source Brokerage, we go the extra mile to ensure you receive personalized quotes from each of the "Big 6" insurance companies. Our team of experts will then guide you through the different quotes, explaining the nuances and answering any questions you may have.
When evaluating disability insurance companies, there are several important factors to consider. These include:
Price: Assessing the affordability of the policy and premium rates.
Contract: Reviewing the terms and conditions of the policy to ensure it meets your requirements.
Disability Definition: Ensuring the policy offers true own-occupation coverage
Medical Requirements: Understanding any medical evaluations or requirements for the policy.
Claims Satisfaction: Evaluating the company's track record in handling and settling claims efficiently.
Financial Ratings: Checking the financial strength and stability of the insurance company.
The "Big 6" insurance companies that Source Brokerage works with to provide disability insurance solutions for professionals are:
Principal
Guardian
Mass Mutual
Ameritas
Standard
Ohio National
3# Premium Discounts
As medical and business professionals we know your clients work very hard in their professional communities. Likewise, we work hard to research and network with disability insurance carriers to insure that you can provide your clients the best specialty and own-occupation disability income policies at the very best premiums. Our expertise in this niche area, especially for physicians and business owners, makes it possible for you to offer your clients DI premiums that are 5-20 percent less than they would pay anywhere else, when you partner with us.
Each of these carriers offer premium discounts, but not all offer the same discounts. Because of our relationships with the carriers and our expertise, access to many of these discounts is only available to you when you work with us.
Depending on the carrier, discounts are available for the following:
membership in professional organizations such as the American Medical Association or the American Bar Association
employment in specific medical hospitals or company
placing three-five policies on employees working in the same organization
multi-product sales.
Why Partner with Source Brokerage?
Our commitment to providing a simple, free, and efficient process sets us apart:
Expert guidance: With our extensive expertise in the disability insurance industry, we have assisted countless brokers in understanding and selecting the most suitable coverage. We prioritize you by offering personalized guidance throughout the process.
Time-saving: We recognize the value of your time and the challenges of juggling multiple responsibilities. By entrusting us with the task of obtaining and comparing quotes, you can focus on what you love most—your relationships with your clients.
Money-saving: Our thorough comparison of policies and access to carrier discounts ensures that your clients receive the best possible rates on their disability insurance
Ready to Get Started?
Source Brokerage, Inc can coach you every step of the way from the sidelines or we can get in the game to help you score. And you and your clients are the winners.
Learn more about marketing and selling DI, contact Steve Crowe at ext. 222,  or request a quote.