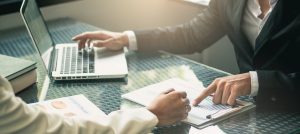 Happy New Year!
New year, new goals. Growing your DI sales not only helps your clients protect their income, it also grows your income and diversifies your product offerings.
Here's our top five blogs and podcasts to inspire you and kick start your sales in the new year.
Your Clients Need to Hear from You
Now more than ever, your clients need to hear from you.
Listen to and serve your existing prospects. How are they being affected by this health crisis and how can you help them? For example, if you manage their investment accounts, reach out to them to offer assurance that their investments are safe and being carefully managed.
New opportunities will also emerge.
Everyone is aware of the sudden loss of jobs as result of COVID-19. No one saw the pandemic coming or the loss of jobs associated with it. Likewise, disabling illness and injuries can have the same impact.
Young Professionals are Your Best DI Prospects
Young professionals between the ages of 30-45 are the best prospects for disability income. They are in the prime earning years of their careers and their families are growing.
Listen to my interview with a young professional about why he purchased DI at age 30 and how his broker introduced the product to him.
Boost your Social Media Presence 
When face-to-face meetings aren't possible, a solid social media presence is essential. Use social media and email communication to build and strengthen your relationships, generate leads and showcase your credibility.
Check out these social media tips and tools to help you get started.
Understanding the Terms in a DI Policy
Understanding the terms in a disability income (DI) policy is imperative to the DI sales process, yet, it can feel like you are learning a new language. A clear understanding of these terms insures you do not misinterpret or overlook important aspects of DI coverage for your clients.
Start the DI Conversation
If you aren't discussing DI with your clients, their open game for the competition. Not sure how to start the conversation. Here's five easy steps to get started. 
It's never been easier to write DI. Not your main book of business. No worries. Source Brokerage DI specialists help you every step of the way.
Contact Steve Crowe at ext. 222, Alyssa Sollenberger at ext. 235, Brian Hettmansperger at ext. 230, Chris Bussey at ext. 220, or request a quote.